Interacting With DApps In Web3
Welcome to the 3rd and last part of this series on how to interact with DeFi platforms and apps using Web3 wallet. The previous parts shows how to create a Web3 wallet and fund it. Today, we're going to use the little funds in our Web3 wallet to buy our first coin on the Binance Smart Chain, provide liquidity and start our first yield farming.
Buying cryptocurrency on a decentralized exchange (DEX) is nothing like that of a centralized exchange where everything is practically done for you. With DEX/DApps, you'll need to set up all the individual parts and bring them together by yourself and complete the process without errors.
For example, you'll need to create a Web3 wallet, set up the specific network, fund it via external sources, then connect to a DEX, copy the correct contract address of the coin you want to trade and so on and so forth.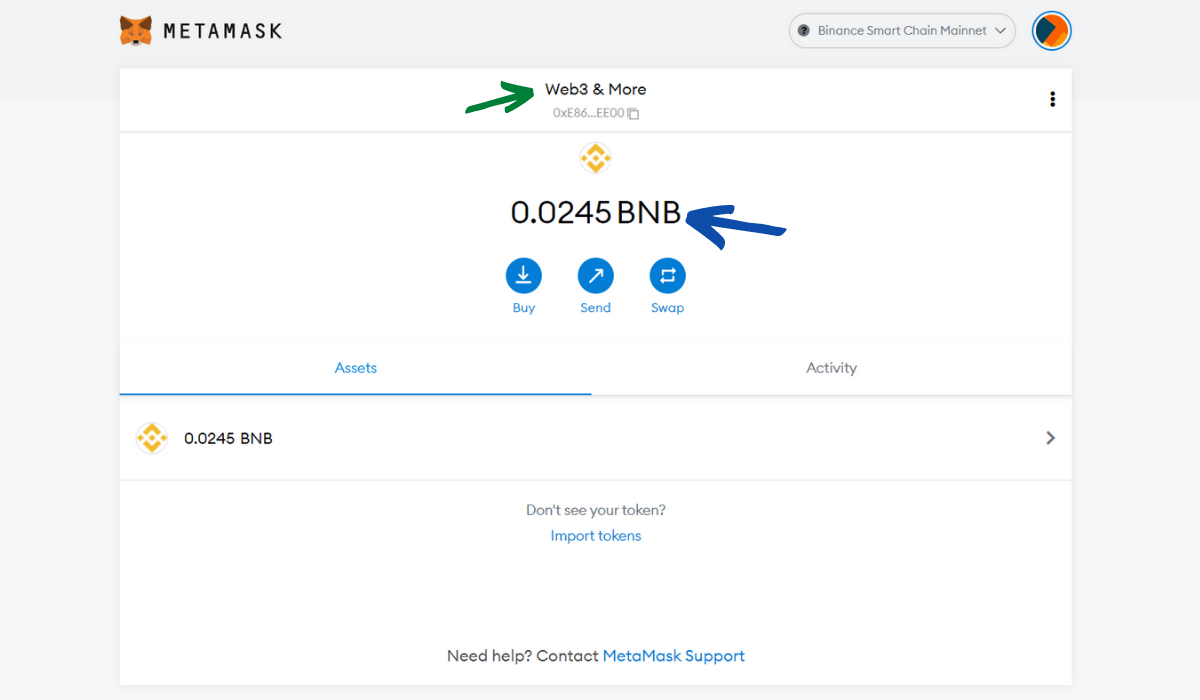 TRADING ON A DEX
1. Go to Pancakeswap, the #1 DEX on Binance Smart Chain. Click 'Connect' at the top (green arrow)
2. Choose MetaMask from the list of wallets and click next (green arrow), then click 'Connect' (orange button).
Well done! Your wallet is now connected and ready to trade.
3. Hover on Trade (green arrow) and click Swap (blue arrow). Click the settings icon at the right image (orange arrow).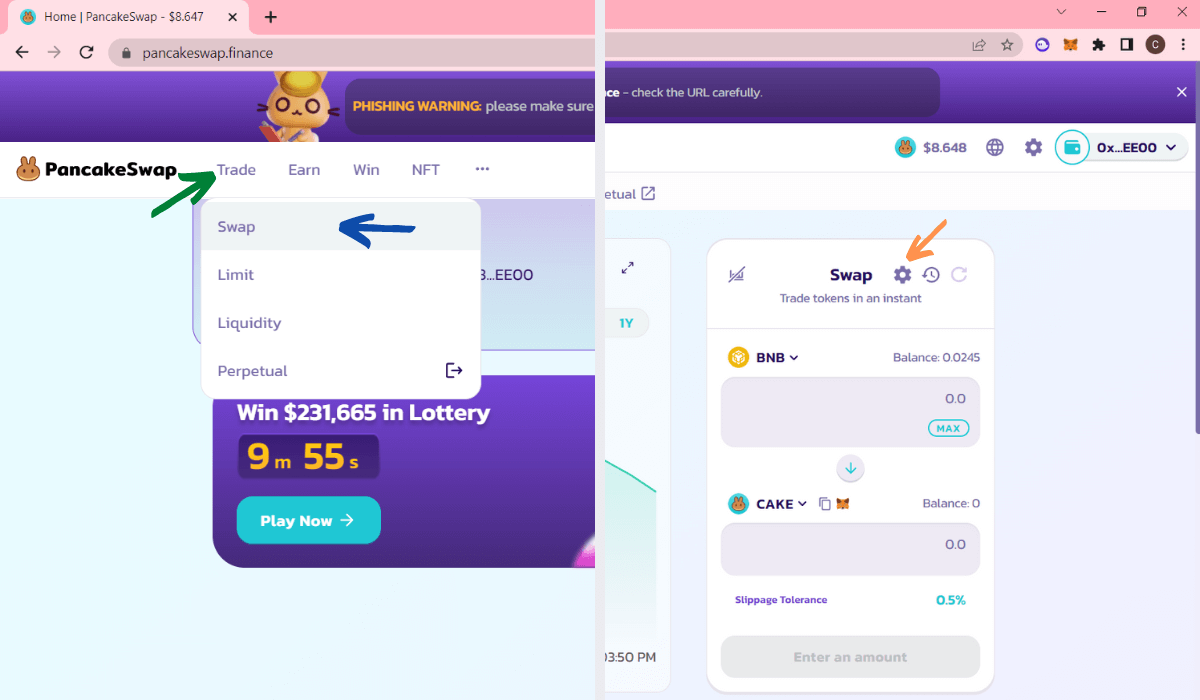 4. Set 'Slippage' to 0.5% (green arrow) and set TX deadline to 5 -10mins maximum (blue arrow). Close settings.
Enter amount of BNB you want to sell for Cake (PancakeSwap token) then click Swap. On the left image, I'll be selling 0.01BNB for 0.5Cake.
5. Click 'Confirm Swap' and click Confirm in Metamask. Note that you'll be paying a tiny amount for gas fees in each transaction, so make sure to keep enough BNB in your wallet always.
Wait a few seconds for transaction to confirm.
PROVIDING LIQUIDITY
1. Now that we have both BNB and Cake in our wallet, let's try to add liquidity and farm some coins.
Hover on Trade again and click Liquidity this time.
2. This place is empty for now so let's add a pair first. Click 'Add Liquidity' (green arrow). Select BNB where there is orange arrow and select Cake where there is blue arrow.
3. To provide liquidity, you must add equal value of two different tokens into a trading pool. For example, We'll be adding $3 dollars worth of Cake and $3 worth of BNB into this liquidity pool.
After entering the amounts, click 'Enable Cake' and approve the transaction in your MetaMask (wait for the pop up).
4. Now that Cake is enabled, Click on 'Supply' and click 'Confirm Supply'. Another MetaMask pop up will appear for you to approve the transaction.
5. Congrats, you just added your first liquidity pool on a DEX (orange arrow).
YIELD FARMING ON A DEX
Now hover on the Earn option and click 'Farms'.
1. These are the current yield farming offers available on PancakeSwap and we just provided liquidity for Cake-BNB pair, so we're going to choose that offer.
Click on the small toggle icon at the right end of the Cake-BNB offer. Click on 'Enable' and confirm again in MetaMask.
2. Now we can 'Stake LP' (liquidity pool tokens). Click on 'Stake LP', enter the amount of LP you want to stake or simply select 'Max' to stake all, then click 'Confirm'.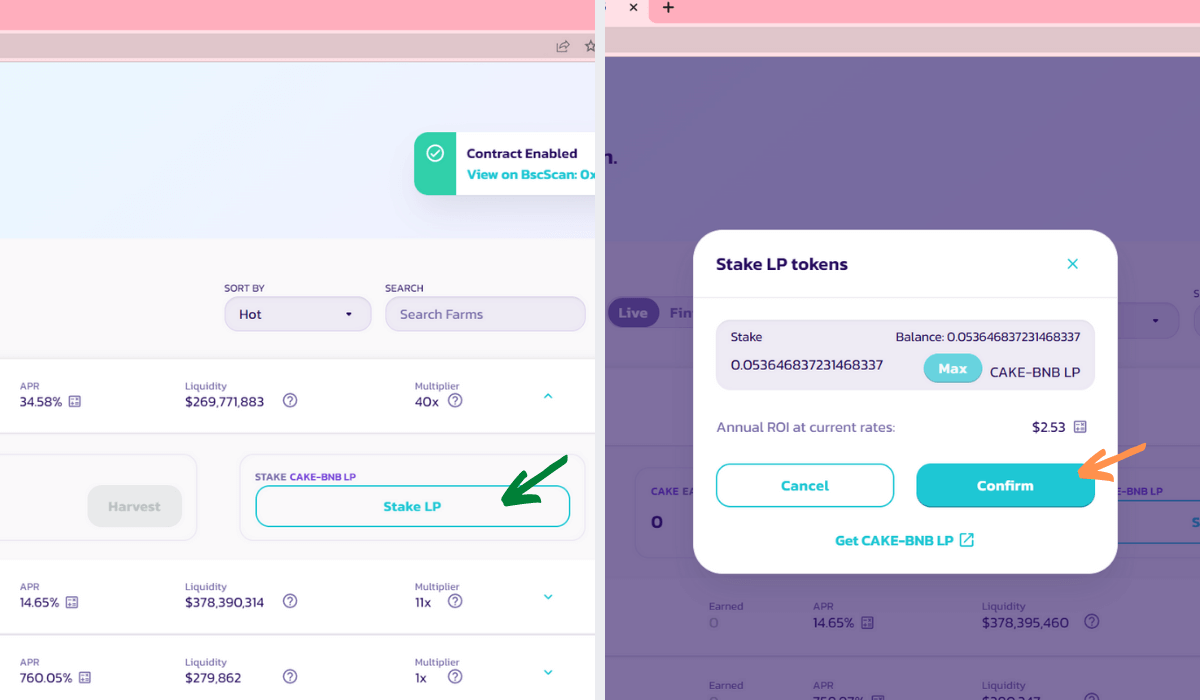 Approve transaction in MetaMask again.
3. Well done! You just started farming at 34% APY, but there's even better.
The bold harvest button (blue arrow) is where you can claim your rewards whenever there's enough coins worth claiming (rewards accumulate within seconds).
Finally, hover on 'Earn' again and click Pools.
4. This is a different kind of farming where you stake only 1 token to get more of the same token or others, you don't need to provide liquidity to stake and earn. In this case, we're going to stake Cake to earn GMI at 170% APY (green arrow).
Select details at the far end of Earn GMI offer and click 'Enable'. Confirm transaction in MetaMask.
5. Now click on 'Stake', enter amount of Cake you wish to stake and click 'Confirm'. Confirm transaction in MetaMask again.
Annual ROI shows about $5 when the investment amount is just around $1.
6. Rewards are already accumulating within seconds and of course, you can harvest your rewards and withdraw them whenever you wish to.
CONCLUSION
Finally, you've progressed from setting up your first Web3 wallet to interacting with your first DEX and even yield farming. I look forward to knowing your experiences trying these steps out.
Do you have any question, stuck at any step, or is there something you'd like to suggest? Please don't hesitate to share them in the comments.
I'm not a guru of any kind, but I hope that I can help you and others to make informed choices in Web3 and More.