How To Fund Web3 Wallet
Welcome to the second part of how to actively interact with DeFi apps and platforms as a beginner. In the first part, we learnt how to create our first Web3 wallet. Today, we're going to fund our wallet with some coins so we can start using it.
t's worth noting that each blockchain network is powered by its own native token, which is required to pay for gas or transaction fees on that specific network. For example, making a transaction on the Ethereum network will require you to pay gas fees in ETH (ERC20) while on Binance Smart Chain (BSC) gas is paid in BNB (BEP20) etc.
In my previous article, recommended creating an account on Binance since it's a lot easier funding our Web3 wallets from CEX. If you haven't, please register an account on Binance and get it verified now (you can read more about binance here).
1. Let's continue for those who were able to register by now. From the home page on Binance, click 'Buy Now' (green arrow) to buy crypto via bank wire or debit card.
2. Choose what currency you want to pay (green arrow) and choose from the blue arrow what coin you want to receive. Choose BNB as indicated on the right image (orange arrow).
3. At this point, if you haven't connected your card during the account verification process, you'll be able to do it here. Select payment method, click continue (green arrow) and confirm (orange arrow).
4. You'll be shown an overview of your order, the fee and other details. Click confirm and complete the payment.
If your payment was successful, hover on 'Wallet' and click 'Fiat and Spot' (orange arrow).
5. Click on Withdraw at the top right (green arrow). Choose which coin you want to withdraw (orange arrow) – choose BNB. The address space (blue arrow) is where you'll paste your MetaMask wallet address.
6. Open Metamask again (green arrow) and click the Account 1 area (blue arrow) to automatically copy your wallet address.
7. Back to Binance, paste your address in the 'Address' space (green arrow) and the matching network for the address will be highlighted (blue arrow). Now, enter an amount you want to withdraw. The current minimum for BNB is 0.01 which is about $4.3 (black arrow).
Enter a small amount to withdraw. Please don't withdraw more than $20 until you've gotten used to interacting with DApps on your own. For this exercise, I'll be withdrawing $10 (orange arrow). Confirm your transaction (phone and email codes will be sent for verification) and wait few minutes for it to arrive in your MetaMask wallet.
8. While we wait for the funds to arrive, let's quickly edit the name of our wallet for easy reference. Open MetaMask again (top blue arrow). Click the gradient circle at the top right (green arrow), then choose Account Details.
Click the pencil icon (orange arrow) and change the name to whatever you like.
9. Our account name was successfully changed (green arrow) and our funds from Binance has arrived also. Now time for the fun parts.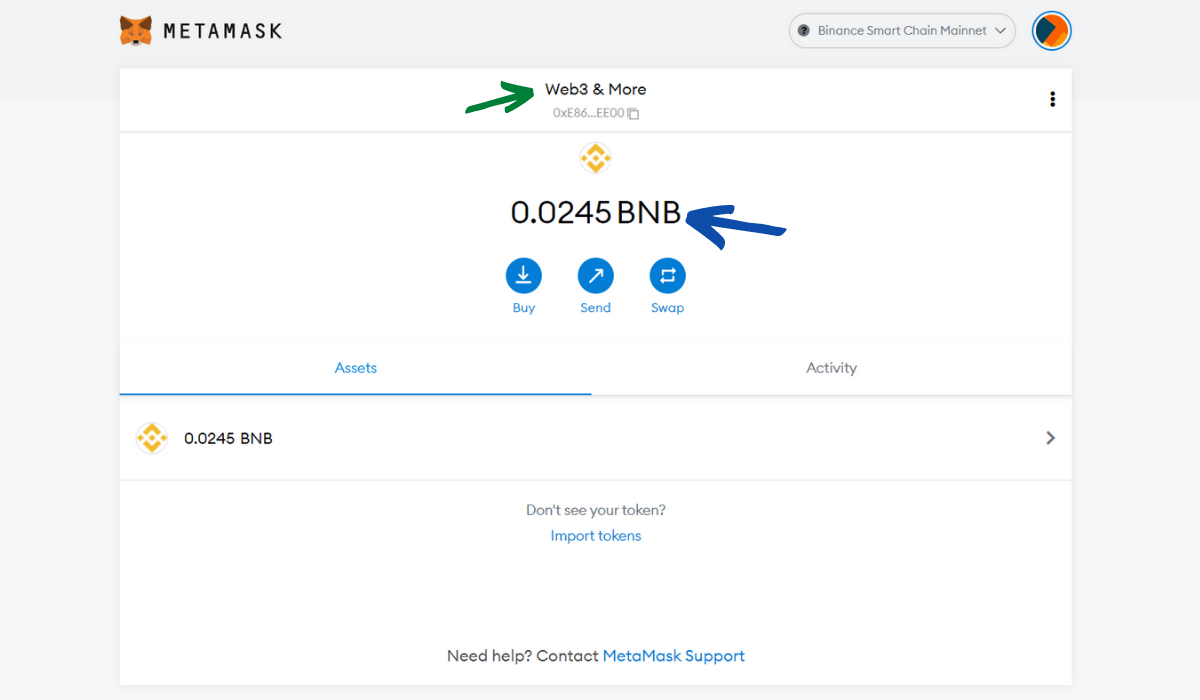 CONCLUSION
Now that your Web3 wallet is successfully funded, you can read on supporting article like how to interact with decentralized Apps and exchanges using your Web3 wallet here.
If you would prefer video guides for long and complex editions like this one, indicate in the comment section and I'll look into it.
Do you have any question, stuck at any step, or is there something you'd like to suggest? Please don't hesitate to share them in the comments.
I'm not a guru of any kind, but I hope that I can help you and others to make informed choices in Web3 and More.